Sorry for being so absent lately! Work has been crazy, and being home set me back a few days in terms of my freelance. But I haven't forgotten about my blog!
In the holiday spirit, here are some more gift ideas I am currently loving!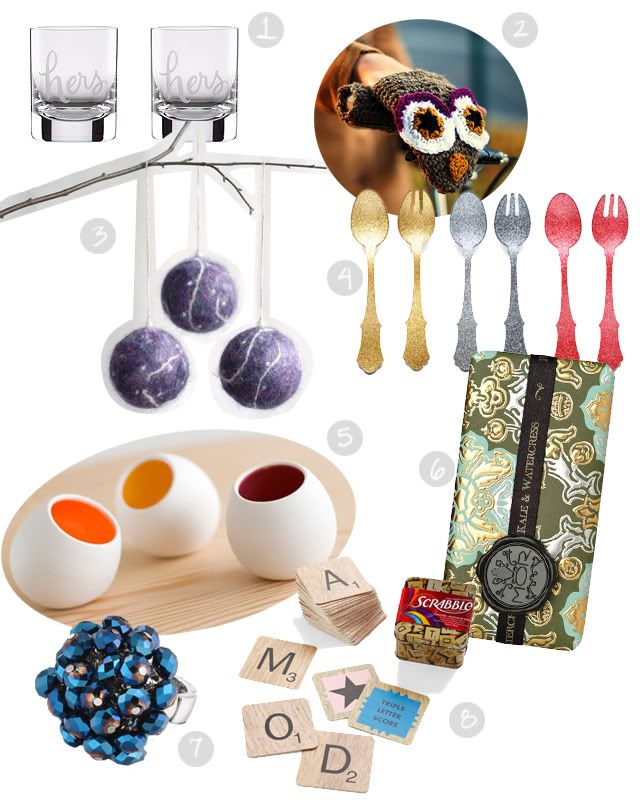 one.
Kate Spade Barware
I love barware. I think glasses make an amazing gift for anyone, and these are too cute! Also, thanks Kate Spade for making "hers & hers" and "his & his" glasses.
two.
Owl Bike Hand Warmers
The perfect gift for any bike lover! These gloves are too cute...I'd want them for myself, but I don't have a bike!
three.
Felted Christmas Ornaments
I've been obsessed with all things felted lately...these handmade ornaments are a perfect gift to give in a Yankee Swap!
four.
Glitter Salad Sets
How fun are these salad sets? Glitter instantly glams anything up, and this set would make a perfect gift for anyone that's in the kitchen, or anyone who loves pretty things!
five.
Rocking Votives
I'm so guilty of getting candles for people that I don't know what else to get...these cute rocking votives would make a great alternative for a typical Yankee Candle!
six.
Kale & Watercress Soap
Another gift I'm guilty of giving quite often is soap...this soap from LEIF is beautifully packaged and is an updated version of that gift we all give!
seven.
Latasia Jewelry
OK, OK, maybe I am a little biased because I work here, but I think Latasia jewelry makes a great gift to give for any jewelry lover!
eight.
Scrabble Coaster Set
This would make a great gift for any friend! I'm constantly playing
Words With Friends
, and this would make such a cute gift for any of the friends I'm playing with.