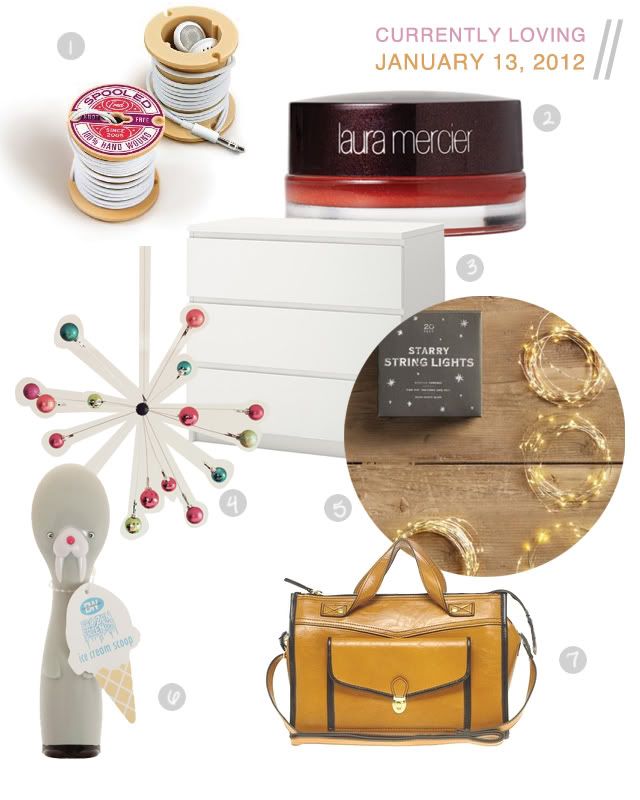 one
.
Fred and Friends Spooled Earbuds Holder
How cute is this? My earbuds are
always
getting all tangled up, but with this cute holder, I can keep them wrapped up in such a stylish way!
two
.
Laura Mercier Lip Stain
After hearing
Keiko Lynn
always rave about this stuff, it's been on my
want
list forever. I'm a big fan of all lipsticks, glosses, and stains, so why not add more to my collection? ;)
three
.
IKEA MALM Dresser
So, my friend recently gave me a ton of her clothes which pretty much doubled my wardrobe, making it necessary for me to get another dresser. I love this simple white IKEA one; next weekend, it will be mine!
four
.
Holiday Sputnik Mobile
Ok, so this is more of a DIY project, and it's kind of Christmas related, but oh well! I think you could really have fun with making something like this, and if you use the right colors, you can hang it up all year! I must make this.
five
.
Starry String Lights
I'm a fan of anything fun and whimsical, and these lights are too cute! What great mood lighting :)
six
.
Walrus Ice Cream Scoop
Because one can never have enough kitchen novelties, right?!
seven
.
ASOS Bag
I'm in desperate need of a new bag. I love the mustardy-brown color of this bag, and it's the perfect size! *sigh*
What are you currently loving?