Happy February everyone! In the spirit of the month-that-is-ruled-by-valentines-day, I created a "Currently Loving" of some very pretty Valentines items. I hope you enjoy!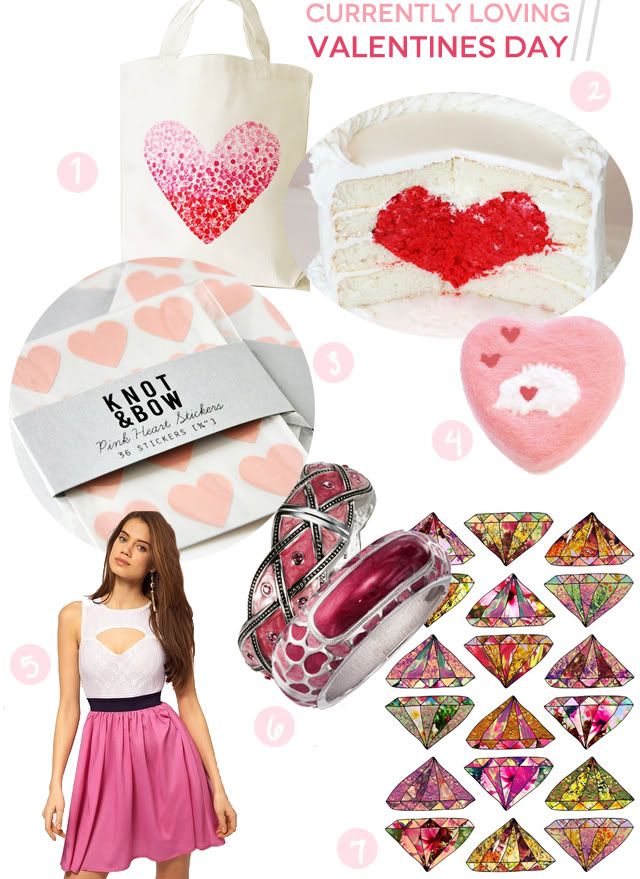 one.
Painted Heart Bag
What a fun DIY project! This would make such a great gift to give to a friend or girlfriend.
two.
Heart Cake
I've been ogling this cake for as long as I can remember. Maybe this year I'll kick my butt into gear and
actually
make it...
three.
Heart Stickers
Pure pretty! I pretty much just want these for my collection... :)
four.
Felted Heart Soap
I've blogged about these felted soaps before, and will continue too! They're such a pretty addition to any bathroom, and would make a great gift to a mom or grandma.
five.
ASOS Dress
There isn't anything I dislike about this dress...the color! The shape! The darling little cutout! I think I needed it in my wardrobe yesterday.
six.
Pretty Latasia Bracelets
These are my favorite bracelets from Latasia. The pinks are so pretty!
seven.
"These Diamonds Are Forever" Art Print
This print is too cool! I love the sketchy-ness and bright colors. I'd love to have this on my wall!
___________________________________
In other news, I have two new lovely sponsors,
Angie
&
Meg
!! I'm excited to have them here :)
Want to learn more about sponsorship?
In other other news, I chopped my hair off! I'll be writing a post about it soon, but if you follow me on instagram (
kylacovert
), you might have already seen it :)